Fatra Gliding Cup 2013 › Results › Day 3 › 09.11.2013
Training 1 Training 2 Day 1 Day 2 Day 3 Day 4 Day 5 Day 6 Day 7 Day 8 Overall Results
Racing Task | Final Results | Maximum Points: 815 | Day Factor = 1.0000
| | | | | | | | | | | |
| --- | --- | --- | --- | --- | --- | --- | --- | --- | --- | --- |
| # | | PILOT | CN | RN | PLANE | DISTANCE | TIME | SPEED | PEN | SCORE |
| 1 | | Erik Praznovsky | EP | OM-1974 | Ventus2 | 318.94 km | 02:32:13 | 125.7 km/h | 0 | 815 |
| 2 | | Soenke Neumann | SN | D-0815 | ASW27 | 318.94 km | 02:37:49 | 121.3 km/h | 0 | 777 |
| 3 | | Martin Kozar | MK1 | OM-2002 | Ventus2 | 318.94 km | 02:39:26 | 120 km/h | 0 | 766 |
| 4 | | Tim Madsen | TKM | OY-XLM | ASW27 | 318.94 km | 02:40:09 | 119.5 km/h | 0 | 761 |
| 5 | | Arne-Martin Guettler | AXM | LN-GOD | ASW27 | 318.94 km | 02:40:18 | 119.4 km/h | 0 | 761 |
| 6 | | Erwin deBruin | EDB | PH-1999 | ASW27 | 318.94 km | 02:41:28 | 118.5 km/h | 0 | 753 |
| 7 | | Uwe Melzer | UWE | FUNFLY | Ventus2 | 318.94 km | 02:42:04 | 118.1 km/h | 0 | 749 |
| 8 | | Aleksey Chernov | AV7 | AIRMAN | ASW27 | 318.94 km | 02:42:42 | 117.6 km/h | 0 | 745 |
| 9 | | Alf von Mahren | XX1 | OK-ALF | Ventus2 | 318.94 km | 02:43:20 | 117.2 km/h | 0 | 741 |
| 10 | | Sandor Laurinyecz | LS | HA-4483 | Ventus2 | 318.94 km | 02:43:27 | 117.1 km/h | 0 | 741 |
| 11 | | Thibeau Teuwen | TIB | D-6469 | Ventus2 | 318.94 km | 02:45:43 | 115.5 km/h | 0 | 727 |
| 12 | | Wlodzimierz Kowalski | DB9 | SP-2964 | Ventus2 | 318.94 km | 02:46:11 | 115.2 km/h | 2 | 722 |
| 13 | | Helmut Kuenne | F9 | D-2318 | ASW27 | 318.94 km | 02:46:53 | 114.7 km/h | 0 | 720 |
| 14 | | Radek Mica | RUM | OK-5417 | LS6 | 318.94 km | 02:47:39 | 114.1 km/h | 0 | 716 |
| 15 | | Horst Jahnke | DHJ | D-2056 | ASW27 | 318.94 km | 02:48:06 | 113.8 km/h | 0 | 713 |
| 16 | | Miroslav Ladnak | MIL | OM-ORLE | Ventus2 | 318.94 km | 02:49:35 | 112.8 km/h | 0 | 704 |
| 17 | | Tom Bouctou | BIR | D-9876 | ASW27 | 318.94 km | 02:50:03 | 112.5 km/h | 0 | 702 |
| 18 | | Radek Pilar | RP9 | OK-7412 | Ventus2 | 318.94 km | 02:50:35 | 112.2 km/h | 0 | 699 |
| 19 | | Heinz Bentheim | HB8 | D-2401 | ASW27 | 318.94 km | 02:50:38 | 112.1 km/h | 0 | 698 |
| 20 | | Witold Rozak | WRW | SP-2323 | ASW27 | 318.94 km | 02:50:42 | 112.1 km/h | 0 | 698 |
| 21 | | Marcin Domagala | MDC | SP-2125 | Ventus2 | 318.94 km | 02:50:57 | 111.9 km/h | 0 | 697 |
| 22 | | Kor Kiley | KK7 | KOR777 | ASW27 | 318.94 km | 02:51:08 | 111.8 km/h | 0 | 696 |
| 23 | | Frank Paynter | TA1 | N62TW | Ventus2 | 318.95 km | 02:51:22 | 111.7 km/h | 1 | 694 |
| 24 | | Jens Moeller | DK2 | XL136 | ASW27 | 318.94 km | 02:51:29 | 111.6 km/h | 0 | 694 |
| 25 | | Mariusz Pacholczyk | MP1 | SP-1313 | Ventus2 | 318.94 km | 02:53:38 | 110.2 km/h | 0 | 682 |
| 26 | | Laszlo Orsy | EJE | HU-EJE | ASW27 | 318.94 km | 02:54:05 | 109.9 km/h | 0 | 679 |
| 27 | | Tomek Rogacki | RT | U-3344 | ASW27 | 318.94 km | 02:54:41 | 109.6 km/h | 0 | 676 |
| 28 | | Araldo van de Kraats | ARA | PH-ARA | ASW27 | 318.94 km | 02:55:36 | 109 km/h | 0 | 671 |
| 29 | | Jiri Adam | ADX | OK-0024 | Ventus2 | 318.94 km | 02:55:50 | 108.8 km/h | 0 | 670 |
| 30 | | Hans Nyc | JN | OK-6200 | Ventus2 | 318.94 km | 02:56:08 | 108.7 km/h | 0 | 669 |
| 31 | | Taglieber Oliver | VIO | KTEGLA | Ventus2 | 318.94 km | 02:59:25 | 106.7 km/h | 0 | 651 |
| 32 | | Mime Eric | J51 | ACT40 | Ventus2 | 318.94 km | 02:59:34 | 106.6 km/h | 0 | 651 |
| 33 | | Antonin Fischer | AFI | OK-1103 | Ventus2 | 318.94 km | 03:00:12 | 106.2 km/h | 0 | 647 |
| 34 | | Jiri Holub | JHO | OK-4408 | Ventus2 | 318.94 km | 03:01:57 | 105.2 km/h | 0 | 639 |
| 35 | | Jiri Nemecek | D32 | OK-6432 | Ventus2 | 318.94 km | 03:02:36 | 104.8 km/h | 2 | 633 |
| 36 | | Paca84 Laurent | LM1 | PACA84 | Ventus2 | 318.94 km | 03:05:30 | 103.2 km/h | 0 | 621 |
| 37 | | Lubos Faitz | LFM | OK-4812 | Ventus2 | 318.94 km | 03:10:18 | 100.6 km/h | 0 | 599 |
| 38 | | Zbyszek Tkocz | ZBY | ZBYCH | Ventus2 | 318.94 km | 03:10:21 | 100.5 km/h | 0 | 599 |
| 39 | | Pete Allen | PWA | G-1466 | ASW27 | 318.94 km | 03:14:55 | 98.2 km/h | 0 | 579 |
| 40 | | Tomas Brotanek | TB | OK-0516 | Ventus2 | 318.94 km | 03:15:08 | 98.1 km/h | 0 | 578 |
| 41 | | Anton Lovi | AL9 | OE-2133 | Ventus2 | 318.94 km | 03:15:42 | 97.8 km/h | 0 | 575 |
| 42 | | Josef Spirik | S50 | SPIRA | Ventus2 | 318.94 km | 03:18:51 | 96.2 km/h | 0 | 562 |
| 43 | | Alain Zutter | AZZ | F-CGAZ | Ventus2 | 318.94 km | 03:26:17 | 92.8 km/h | 0 | 532 |
| 44 | | Valentin Tornavi | 574 | RA-SLY | ASW27 | 318.94 km | 03:28:06 | 91.9 km/h | 0 | 525 |
| 45 | | Adam Janecki | AJ | GLI | ASW27 | 318.94 km | 04:15:52 | 74.8 km/h | 0 | 455 |
| 46 | | Aaron Kiley | AAK | 57AAK | ASW27 | 272.02 km | | | 0 | 388 |
| 47 | | Milos Koch | MK | OK-1823 | ASW27 | 245.4 km | | | 0 | 350 |
| 48 | | David Mach | VPD | OK-8145 | ASW27 | 173 km | | | 0 | 247 |
| 49 | | Egon Jorgensen | 5 | OY-XKP | ASW27 | 246.56 km | | | 138 | 214 |
| 50 | | Fil Sykora | FIL | OK-3316 | Ventus2 | 318.94 km | 03:25:41 | 93 km/h | 360 | 175 |
| 51 | | Pavel Snajdr | ST | LT5 | ASW27 | 72.38 km | | | 0 | 103 |
| 52 | | Tomasz Zwolinski | TZ2 | SP-0028 | Ventus2 | 70.71 km | | | 0 | 101 |
| 53 | | Mathias Muench | HG | D-2197 | LS6 | 51.64 km | | | 0 | 74 |
| 54 | | Yves Mueller | CRN | HB-3493 | ASW27 | 40.12 km | | | 0 | 57 |
| 55 | | Rudolf Kalousek | R1K | OK-7777 | Ventus2 | 318.94 km | 03:23:56 | 93.8 km/h | 1172 | 0 |
| 56 | | Andrzej Czop | CIA | SP-3043 | ASW27 | 300 km | | | 1 | 0 |
| 57 | | Bent Christensen | BHX | OY-BHX | ASW27 | 224 km | | | 0 | 0 |
| 58 | | Andreas Wissmann | AW1 | D-9034 | Ventus2 | 80.2 km | | | 0 | 0 |
| 59 | | Vladimir Tishevsky | TVA | UA-TVA | ASW27 | 76.9 km | | | 0 | 0 |
| 60 | | Oldrich Slavicek | O8 | OK-OLDS | ASW27 | 245.8 km | | | 0 | 0 |
| 61 | | Peter-Jan Schoonen | PJS | PH-PJS | Ventus2 | 199.16 km | | | 0 | 0 |
| 62 | | Jon Holland | 123 | G-RUSH | ASW27 | 140.31 km | | | 3 | 0 |
| 63 | | Martin Dolansky | KU8 | OK-8285 | Ventus2 | 102.9 km | | | 0 | 0 |
| 64 | | Carsten Tietz | SDI | D-KPEZ | ASW27 | 87.7 km | | | 0 | 0 |
| 65 | | Marek Marcuss | 030 | SP-0303 | Ventus2 | 82.8 km | | | 18 | 0 |
| 66 | | Benedek Bence | BB | HA-5432 | Ventus2 | 48.8 km | | | 0 | 0 |
| 67 | | David Leonard | ZL | N27ZL | ASW27 | 4.64 km | | | 0 | 0 |
| 68 | | Leszek Tomasik | LTO | SP-2188 | Ventus2 | 2.9 km | | | 0 | 0 |

Download IGC files (all pilots in one ZIP file) | Detailed results (mCR, mIAS, Detour%...)
Briefing › Day 3 › 09.11.2013 › 20:00 CET › Saturday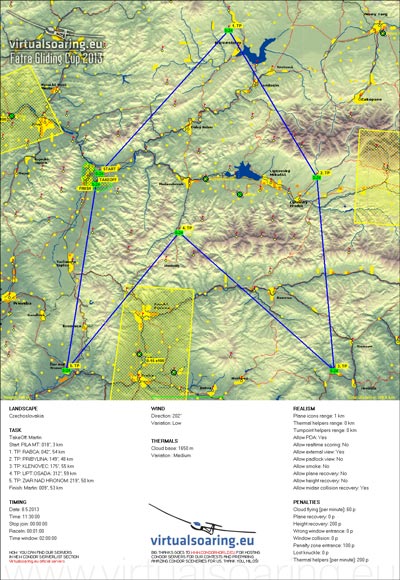 Server:Fatra Gliding Cup
Password:
In loving memory of great Condor pilot and our good friend,
Rainer Gromzik (RG). He passed us away this summer forever.
Rest in peace, Rainer!
---
Date:
09.11.2013
Time:
20:00 CET
(19:00 UTC)
Join time:
30 min.
---
Landscape:Czechoslovakia 3.0
Plane class:15-meter Class
Task type:Racing Task
Race-in time:1 min.
Time window:120 min.
Start time:11:30:00
Condor date:08.05.2013
Start altitude:max. 2400 m QNH
---
TakeOff:Martin
Start:PILA MT
1. TP:RABCA
2. TP:PRIBYLINA
3. TP:KLENOVEC
4. TP:LIPT.OSADA
5. TP:ZIAR NAD HRONOM
Finish:Martin
Distance:319 km
---

Cloudflying not allowed! Circeling in the direction of climb is determined by the first glider in thermal. If you have doubts about the circeling direction, ask in the chat. Attention: some penalty zones (CTR/TMA) are active, please watch your PDA all the time! Please fly safe, good luck to all pilots.
---

Download Flightplan (FPL file)
---
comments powered by

Disqus